On Friday evening, November 30th, Juventutem Michigan returned to Lansing for the first time since its inaugural early morning MICYAC Low Mass in March 2012.  Fr. Mark Rutherford, a young priest of the Diocese of Lansing, celebrated the Mass for the Feast of St. Andrew at Church of the Resurrection, where he serves as Associate Pastor.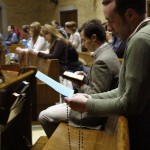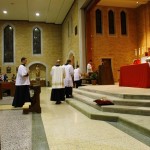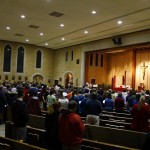 Well advertised to young adults across the state and to parishioners throughout Lansing, the Mass was attended by more than 200 souls (some said, more than 300) – and while dozens were clearly familiar with the prayers and postures, it seemed to be the first or second such Mass for many of the faithful in attendance.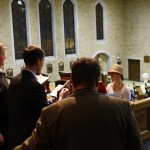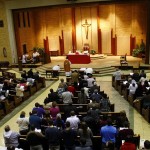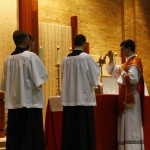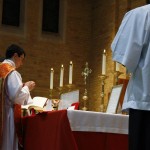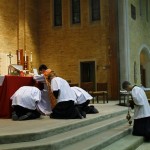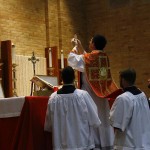 After Mass, more than one hundred young adults – including several young families – gathered in the parish hall for a pizza, wine, and home brewed beer celebration worthy of the manly saint of the day. In addition to meeting many new friends, the young adults listened to Aaron Harburg's speech (facebook note) on Catholic culture and the goals of Juventutem, and sang the Salve Regina.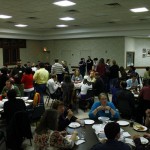 For the first time, JM's November gathering brought together young adults from all seven (arch)dioceses of the Province of Michigan: Detroit, Gaylord, Grand Rapids, Kalamazoo, Lansing, Saginaw, and Marquette.  For its forthcoming Pontifical Mass & dinner at the 2013 March for Life (website, facebook), Juventutem Michigan hopes to bring together young adults from several states and perhaps a few countries who work for the pro-life cause by supporting the Church's traditional liturgy.
If you're willing to attend that Pontifical Mass or to help our promotional efforts, please complete our questionnaire. Thank you for your prayers and support.
Resumen: Juventutem en Lansing – Fiesta de S. Andrés
El viernes 30 de noviembre por la tarde, Juventutem Michigan regresó a Lansing por primera vez desde su misa rezada inaugural temprano en la mañana en la Conferencia de Jóvenes Católicos, en marzo de 2012. El P. Mark Rutherford, un sacerdote joven de la Diócesis de Lansing, celebró la Misa para la Fiesta de San Andrés en la Iglesia de la Resurreción, donde sirve como vicario.
Bien anunciada a jóvenes alrededor del estado y a feligreses a través de Lansing, la misa fue atendida por más de 200 almas (algunos dijeron más de 300) – y mientras docenas estaban claramente familiarizados con las oraciones y las posturas, parecía ser la primera o segunda misa tradicional cantada para muchos de los fieles que estaban presentes.
Terminada la misa, más de cien jóvenes – incluyendo varias familias jóvenes – se reunieron en el salón de actividades parroquial para una celebración con pizza, vino y cerveza elaborada en casa, digna del varonil santo del día. Además de conocer muchos nuevos amigos, los jóvenes escucharon el discurso de Aaron Harburg (nota de Facebook [en inglés]) sobre cultura católica y las metas de Juventutem, y cantaron el Salve Regina.
La actividad de Juventutem Michigan de noviembre reunió por primera vez a jóvenes de todas las siete diócesis de la Provincia de Michigan: Detroit, Gaylord, Grand Rapids, Kalamazoo, Lansing, Saginaw y Marquette. Para la Misa Pontifical y Cena en la Marcha Pro-Vida 2013 (sitio web, facebook) que se avecina, Juventutem Michigan espera reunir a jóvenes de varios estados, y quizás unos cuántos países, que trabajan para la causa pro-vida al apoyar la liturgia tradicional de la Iglesia.
Si está dispuesto a asistir esa Misa Pontifical o ayudarnos en nuestros esfuerzos promocionales, favor completar este cuestionario (en inglés). Gracias por sus oraciones y respaldo.
Zusammenfasung: Juventutem in Lansing – Andreasnacht
Am Freitag Abend, 30. November, kam Juventutem Michigan zum ersten Mal seit einer
MICYAC Privatmesse
in den frühen Anfängen im März 2012 wieder nach Lansing. Fr. Mark Rutherford, ein junger Priester aus dem Bistum Lansing, feierte die Messe zur Andreasnacht in Church of the Resurrection, wo er Pastor ist.Durch die gute Werbung bei jungen Erwachsenen aus dem ganzen Bundesstaat und bei Gemeindemitgliedern in Lansing, nahmen mehr als 200 Seelen (manche sprechen auch von mehr als 300) an der Messe teil – und während Dutzende deutlich vertraut waren mit den Gebten und Haltungen, schien es für viele Teilnehmer die erste oder zweite Messe dieser Art zu sein.
Im Anschluss an die Messe trafen sich mehr als hundert junge Erwachsene – einschließlich einiger junger Familien – im Gemeindezentrum, um Pizza zu essen und Wein und selbstgebrautes Bier zu trinken. Die jungen Erwachsenen trafen neue Freunde, hörten Aaron Harburgs Rede(facebook note) über die katholische Kultur und die Zeile von Juventutem hören und sangen das Salve Regina.
Zum ersten Mal brachte JMs November Treffen junge Erwachsene aus allen sieben (Erz-)Bistümern in Michigan zusammen: Detroit, Gaylord, Grand Rapids, Kalamazoo, Lansing, Saginaw and Marquette. Juventutem Michigan hofft, bei der bevorstehenden Veranstaltung anlässlich der Pontifikalmesse beim Marsch für das Leben 2013 (Website, Facebook) junge Erwachsene aus mehreren Bundesstaaten und vielleicht einigen Ländern zusammenzubringen, die für die Pro-Leben Sache arbeiten, indem sie die traditionelle Liturgie der Kirche unterstützen.
Wenn du am Pontifikalamt teilnehmen oder uns helfen möchtest, fülle bitte unseren (englischsprachigen) Fragebogen aus. Danke für deine Gebete und Unterstützung.