On Friday night, August 10th, the Feast of St. Lawrence, members of Juventutem Michigan gathered together at St. Joseph Shrine, Brooklyn, MI, with Catholic faithful from the Irish Hills and the surrounding areas for a beautiful Missa Cantata celebrated by Fr. Jeffrey Njus from St. Anthony of Padua, Hillsdale, and sung by Wassim Sarweh from Assumption Church, Windsor, Ontario.
Afterward, a half dozen of the young adults danced the rest of the evening away at the nearby Big Band Dance that was played by The Johnny Knorr orchestra.
Other pictures of St. Joseph Shrine are available in this other Facebook collection.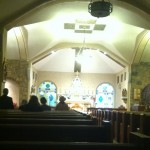 Belleza de Noche de Viernes en Brooklyn
La noche del viernes 10 de agosto, la Festividad de San Lorenzo, miembros de Juventutem Michigan se reunieron en el Santuario St. Josephn, Brooklyn, Michigan, con feligreses católicos de las Irish Hills y las áreas circundantes para una hermosa Misa Cantada celebrada por el P. Jeffrey Njus de la Parroquia St. Anthony of Padua, Hillsdale, y cantada por Wassim Sarweh de la Parroquia Assumption, Windsor, Ontario.
Después, una media docena de los jóvenes bailaron el resto de la tarde en el Baile Big Band que fue presentado por la orquesta The Johnny Knorr en las cercanías de la iglesia.
Más fotos del Santuario St. Joseph están disponibles en este otro álbum de Facebook.
Am Freitag, den 10. August, am Fest des Hl. Laurentius, versammelten sich Mitglieder von Juventutem Michigan und andere Gläubige aus den Irish Hills und der Umgebung in St. Joseph Shrine, Brooklyn, MI, um eine schöne Missa Cantata mit Fr. Jeffrey Njus aus
St. Anthony of Padua
, Hillsdale, zu feieren. Die Messe wurde von Wassim Sarweh aus der
Assumption Church
, Windsor, Ontario, gesungen.
Den Rest des Abends verbrachte ein halbes Dutzend junger Erwachsener bei dem Big Band Dance, auf dem das The Johnny Knorr Orchester spielte.
Weitere Bilder von St. Joseph Shrine finden sich in diesem Facebook-Album.
Beleza na Noite de Sexta-Feira em Brooklyn
Na noite de sexta-feira, 10 de agosto, Dia de São Lourenço, membros da Juventutem Michigan reuniram-se no Santuário de São José, em Brooklyn, MI, com fiéis católicos de Irish Hills e regiões adjacentes para uma bela Missa Cantata celebrada pelo Pe. Jeffrey Njus de Sto. Antônio de Pádua, em Hillsdale, e cantada por Wassim Sarweh, da Igreja da Assunção, em Windsor, Ontario.
Posteriormente, cerca de meia dúzia de jovens dançaram pelo restante da noite no Baile Big Band nas proximidades, com a orquestra Johnny Knorr.
Outras imagens do Santuário de São José estão disponíveis neste outro álbum no Facebook .