Over Labor Day weekend, Juventutem Michigan will conduct its first Latin class, at a sort of house of retreat on Traverse City's Old Mission Peninsula, accommodating eight or nine pupils.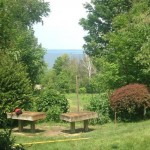 Not far from vines, cherry trees, and West Grand Traverse Bay,
Magister
Nathan Freeman will lead a weekend of 
Ora et Labora
, diving into Latin grammar and vocabulary by immersion, by way of discussing the Psalms and other prayers.  In addition to prayer and study, pupils will also share common meals and perhaps sing songs around a fire on the beach.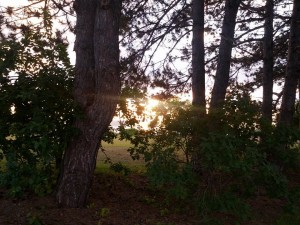 As time allows, the party may also visit Buchan's Blueberry Hill or one of the peninsula's wineries with its beautiful vistas.  Distanced a little from the techniques and concerns of day-to-day life in our technological American society, attendees will likely find time to talk about the best possible life – the life lived in relationship to Jesus Christ and in community with others who love Him too.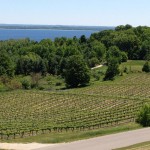 On Sunday, they will assist at a Traditional Latin Mass ("TLM") at the gem of the Leelanau Peninsula –
Holy Rosary
in Cedar, Michigan.
For downstate participants, the program will commence with a carpool from Ann Arbor at 7:00 a.m. on Saturday, August 30th and will conclude with a Te Deum and return carpool on Monday afternoon, September 1st.  Accommodations will be neither rustic nor luxurious. Only friendly people should apply. Cost, including in-house meals, will be $50-70.
If you're interested, please send an application email to us –  contact@juventutemmichigan.com – by Friday, August 8th.  Please set forth your name and your background in studying languages, if any.  In addition, please write four or more sentences about why you would like to study Latin with other young adults from Juventutem Michigan.
A note on a Juventutem Latin class:
You go to a Latin Mass … do you … know how to speak Latin?
Don't I need to know Latin?
As Morpheus said– 😉 –  "you don't need to speak Latin to [assist faithfully] at a Latin Mass."
Among the five leaders and the hundreds of friends of Juventutem Michigan, there are perhaps two or three that could respond to this imagined question with a claim of strong Latin fluency – what one might imagine as a facility to work with the Latin language outside of the prayers of the Mass, which become well known within the first few months of assisting at the Traditional Mass.
And this reality is in no way inconsistent with JM's mission of pursuing holiness by attending the TLM and by tapping into other timeless traditions of the Faith.  While the mission set forth in Juventutem's Charter doesn't require Latin classes – and, indeed, this is the first such Juventutem program that we know of on American shores – in no way does it preclude them.
Language is one foundation of culture.  For Juventutem Michigan, which has an additional focus in the renewal of Catholic Culture — culture: the shared way life of a community, over the generations — efforts to expand the community of Latin speakers pursue Catholic cultural renewal more directly than many of our other efforts.
As St. John XXIII wrote regarding Latin: "There can be no doubt as to the formative and educational value either of the language of the Romans or of great literature generally. It is a most effective training for the pliant minds of youth. It exercises, matures and perfects the principal faculties of mind and spirit. It sharpens the wits and gives keenness of judgment. It helps the young mind to grasp things accurately and develop a true sense of values. It is also a means for teaching highly intelligent thought and speech." (English translation)
In carrying forth this project, Juventutem Michigan is pursuing the project that the sainted pontiff proposed and aims to do so within a community of friends.